Welcome to the Herald and Sons book catalog. Here you'll learn about our stories. Each one started with an idea from the Herald sons!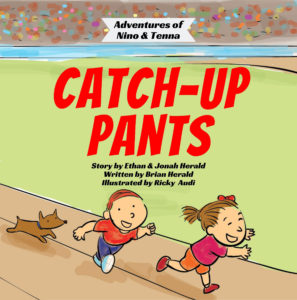 Adventures of Nino & Tenna: Catch-Up Pants
LATEST RELEASE!
Get ready…Get set…READ! Enjoy a laugh-a-lap in this fun tale from a track and field! "Catch-Up Pants" is an engaging story about play, exercise, and keeping a sense of humor about things!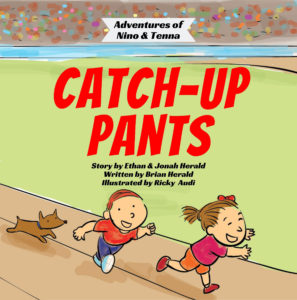 Listen to a preview of the story!
Also available through these fine retailers!
PAPERBACK: Amazon
EBOOK: Amazon | Nook, Apple Books, Kobo, Overdrive, and more!
AUDIOBOOK: Kobo, Walmart
Adventures of Nino & Tenna: Backyard Campout!
"Backyard Campout" is a smart and campy story that is sure to capture young readers' imagination. Packed with lots of laughs and nighttime animals facts!
Listen to a preview of this story!
Flashlights…check.
Snacks….check.
Bear spray…check.
Wait, BEAR SPRAY!?
Spunky siblings Nino and Tenna are ready for their next adventure. There's a full moon tonight, so you know what that means? Backyard Campout!
So maybe the tent took a few tries to set up. And maybe a few marshmallows are a little extra crispy. That's what is so fun about a campout!
This campy tale is perfect for the reader who enjoys fun and exciting stories about friendship and animals, and who loves to laugh. Plus it's packed with facts about nighttime critters like owls, crickets, and more! 😉
Grab your flashlight and your sleeping bag. We're off to experience the great outdoors!
Fact Sources
Backyard Campout includes lots of nighttime animals facts. Here's a list of sources we used as references while putting together the story. Check them out to learn more about nighttime animals, the moon, and camping!
Adventures of Nino & Tenna: Picture THIS! Imagine THAT!
"Picture THIS! Imagine THAT!" is a story about creativity and play, and all the fun to be had from using your imagination.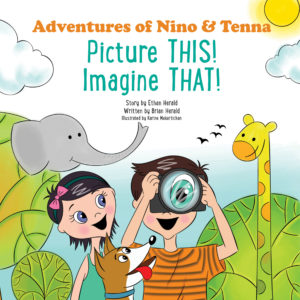 Listen to a preview of this story!
When our story creator (and my son) Ethan first told me this story about his favorite imaginary character Nino taking pictures of all the animals he saw, he was naming all of these animals that you wouldn't typically see in a forest setting. But Ethan was adamant that Nino was seeing them! It took me a few minutes, then I thought, "Of course! I just need to use my imagination!" After that, we were off to work on this story.
In "Picture THIS! Imagine THAT!" Nino has a tough time convincing his sister Tenna about all the WILD animals he saw during a walk in the woods. So it's a good thing he had his camera with him to take pictures. Looking at Nino's photos, Tenna doesn't quite see exactly what he is describing…until she starts to PLAY along and use her imagination! You won't believe it until you see it with your own eyes!
If your child likes stories that capture their imagination and inspire their creativity, then they will LOVE sharing this story with you!
---
Adventures of Nino & Tenna: Forest Explorer
"Forest Explorer" is the first book in our series about the curious and adventurous siblings Nino and Tenna.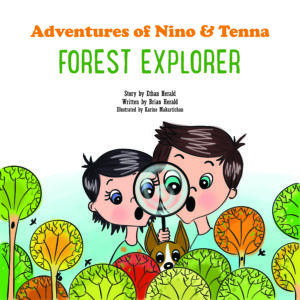 Listen to a preview of this story!
Story Available All Over!
PRINT:
VIEW BOOK ON AMAZON
EBOOK:
VIEW ON AMAZON
|
VIEW ON APPLE BOOKS
|
VIEW ON BARNES & NOBLE
|
VIEW ON KOBO
|
VIEW MORE EBOOK VERSIONS
AUDIOBOOK: VIEW IN ITUNES | VIEW IN AUDIBLE
About Forest Explorer
This was a story my son Ethan told me about his imaginary friend named Nino. He had a lot of stories about Nino, and Nino's sister Tenna, and this one really captured my attention. Ethan was so excited about the story he was telling me, and I could almost see the gears turning in his little brain. He came up with a real gem, and so I surprised him by turning it into a real book that he could read and share with his friends and family.
---
Adventures of Nino & Tenna: Welcome to the Adventure (An Introduction to the Characters)
"Welcome to the Adventure" is a prequel to our story "Forest Explorer." What is Nino's favorite color? What is Tenna's favorite snack? Meet the main characters in our Adventure of Nino and Tenna series!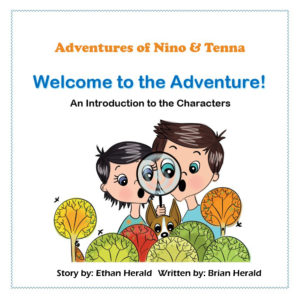 This story is available right now is the following formats:
PDF for download-
Click an image below to learn more about Tenna, Puppy Dog, or Nino
Take a quick tour around Nino's neighborhood!