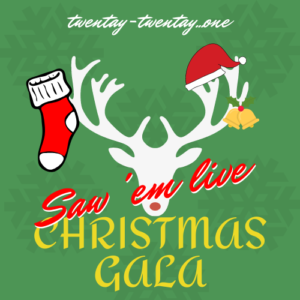 Your
Saw 'Em Live
2021 Christmas Gala
headliner brackets are ready!
🎄Christmas Gala Stages🎄
Full Bennies at the Sizzler Stage
We Have A Lot of Fun Here Stage
How to participate: Download the bracket for each of our seven glorious stages and choose your favorite band to advance through each matchup. If you're a Double Decker, share your brackets in the FB Group. If you're not a Double Decker (yet), then what are you even doing?? Join Bramble Jam+ and join the party. You can't image the fun you're missing.
Each stage has three version of the bracket: a Word file with text fields you can type into, a PDF file for printing, and a PNG file for drawing on if you're using a phone or tablet.
Stuck in a Snow Globe Stage
Full Bennies at the Sizzler Stage
Ol' Red Pickup Truck Stage
Puke Face Stutter Stage
All The Creams Stage
We Have A Lot of Fun Here Stage
Double Deckers Stage